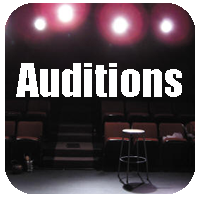 Sunday in the Park with George
OPEN AUDITIONS for Sunday in the Park with George will be held:
Saturday, March 4th, 2–5pm
Monday, March 6th, 6–9pm
Looking for confident singers with colorful stage personalities. Prepare a song accordingly.  Sondheim is preferred, but whatever gives the best snapshot of you is best. From the show is welcome, not required. If you want to sing with the accompanist provided, please bring sheet music in your key. You can use your own backing track if you prefer, via your own device connected by Bluetooth to a speaker in the theater.
This show features a large cast of lead roles ranging in age from 20 to 98…and one feisty little girl (8–12). While the painting on which the show is based represents a spectrum of French white people in the 1880s, we invite ALL to audition and proudly support open casting ALL roles to represent a more vibrant spectrum of talented performers in 2023! Come on down!
Everyone will be seen on a "first come, first seen" basis according to the sign-in sheet with the stage manager, so make sure you sign in. If you have a picture and resumé, please bring them.
If you're unable to attend either day but would still like to audition, let us know by emailing the director, Huck Hirsch, at [email protected] or send an audition video to same no later than March 5th. Feel free to email with any questions as well.
Callbacks will be Friday, March 10th, 7–9pm, also at NFCT.
Rehearsals begin Tuesday, March 21st, 3–4 times a week, mostly weeknights.
The show runs May 18th through June 4th: Thursdays, Fridays, Saturdays at 8pm; Sundays at 2:30pm, for a total of 12 performances.
Thanks for your interest. We look forward to seeing you!
NFCT is devoted to fairness, diversity and involvement. We encourage performers of all races, ethnicities, gender identities, and abilities to attend every audition.