OPEN AUDITIONS FOR SUMMER YOUTH PRODUCTION
Audition for our Youth on Stage show, 9 to 5 the Musical.  
The NFCT YOS program welcomes all youth ages 14-22 to audition or participate off-stage in a variety of ways.
AUDITION DATES:
May 20, 2:00PM
May 22, 6:30PM
Callbacks will be held May 27 at 2:00PM.
LOCATION:
All auditions and callbacks will be held at the North Fork Community Theatre located at 12700 Old Sound Ave, Mattituck, NY 11952.
PERFORMANCE DATES:
July 20 – August 6, 2023
Thursday, Friday & Saturday performances at 8:00PM, Sunday performances at 2:30PM.
HOW TO PREPARE:
Prepare up to 32 bars (no more than 2 minutes) of a musical theater song.  You can sing a cappella or bring your own sheet music for an accompanist to play.  You can sing from the show, but you do not have to.
Bring comfortable clothing & shoes to dance in.  Character shoes or sneakers are acceptable, flip flops are not.
If you have any questions, send them to the director, Liz Liszanckie, at

[email protected]

.
Know what your conflict dates are this summer!  If your family takes a vacation or you have graduation parties coming up, bring a list of ALL dates that you are not available with you to the audition.
REHEARSALS:
Rehearsals are planned for Sunday – Thursday evenings.  There will be a couple of weekend workshops, dance rehearsals and the opportunity to perform at the NFCT's 15th Annual Gala.  It will be a busy summer and lots of fun!
OTHER OPPORTUNITIES:
In addition to performing a great show on stage, there are opportunities to learn more about directing, choreographing, designing lights & tech, set decoration, marketing, and participating in pop-up performances.  There are many ways to get involved.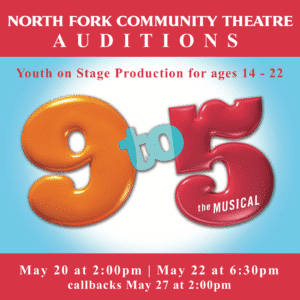 CHARACTER BREAKDOWN:
VIOLET NEWSTEAD – The company's Head Secretary and Mr. Hart's Administrative Assistant, she is a single mother and typically stands up for what she believes in. Attractive, strong, ambitious.
DORALEE RHODES – A young, sexy spitfire who works at Mr. Hart's office. She is proof that there is more to a woman than just her looks.
JUDY BERNLY – The new girl at the firm, she has been burned by her husband's affair and is searching for personal empowerment. Insecure, determined, and hopeful.
FRANKLIN HART Jr. – One of the firm's executives and a notorious chauvinist. He is capable of faking charm but usually shows his true colors as an arrogant, self-absorbed boss.
ROZ KEITH – The attentive office gossip queen and snitch. She has an unrequited love for Mr. Hart and will do anything she can to win his approval.
JOE – A handsome, young office accountant. Genuine and nice, and smitten with Violet.
DWAYNE – Doralee's attractive husband. He is very supportive of her professional pursuits.
JOSH – Violet's awkward teenage son.
Secretary Trio – (The trio will be featured in dance as well)
MARIA – A young and vibrant secretary in Hart's office.
KATHY – A secretary in Hart's office with a tendency to gossip.
MARGARET – A secretary in Hart's office with a tendency to drink.  (The office lush)
MISSY – Franklin Hart's wife, clueless to her husband's true nature.
DICK – Judy's soon-to-be ex-husband. An average guy, he is sporting a little less hair and a little more paunch than he did ten years ago.
TINSWORTHY – Franklin Hart's boss and Chairman of the Board. A good man, who may be wiser to Hart's ways than he lets on.
ENSEMBLE  (Including smaller roles of Detective, Doctor, Candy Striper, New Employee & Bob Enright who will be cast during the rehearsal process)
NFCT is devoted to fairness, diversity and involvement. We encourage performers of all races, ethnicities, gender identities, and abilities to attend every audition.